Board Meeting | 4:00 PM - CLOSED SESSION | 6:00 PM - OPEN SESSION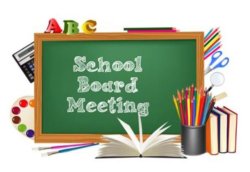 What

Board Meeting | 4:00 PM - CLOSED SESSION | 6:00 PM - OPEN SESSION

When

8/11/2020

Where

John C Martinez Elementary MPR 13174 E Parlier Ave, Parlier, CA 93648
This meeting of the Parlier Unified School District Board of Trustees is live streamed and may be accessed at https://youtu.be/tjeAfh6jv_I (English) or https://youtu.be/AH4-ygVENtU (Spanish).

Pursuant to Executive Order N-29-20 issued by Governor Gavin Newsom on March 17, 2020, any or all Board Members and members of the public may attend board meetings by telephone. Members of the public who wish to provide public comments may attend at John C. Martinez Elementary School.

The board meeting room will remain open during the meeting for those members of the public who wish to attend the meeting in person and/or make public comment. However, the Board may limit the number of individuals in the board meeting room at any one time pursuant to guidance from public health officials.
Copy to Google Calendar
•
Download iCal Event